Home
Main content starts here, tab to start navigating
The After 26 Depot Café officially opened on Tuesday June 4th, 2013
8th Annual Depot Music Festival - THANK YOU!!
The After 26 Project's Board of Directors along with myself, Kelly Hondorp, General Manager of The After 26 Depot Cafe and Nonprofit Director of The After 26 Project are grateful to our many sponsors who contributed to the success of the 8th Annual Depot Music Festival. Thank you to the performers, sound engineer Jim Clements, volunteers, donors, staff and people who attended the event. Thank you also to the City of Cadillac employees especially Ken, Gabe and Juanita. Thank you Butch Soltman for your continued drive to help with the 50/50. Thank you Kevin, Tammy and employees from Chico's Taco House. Mike, Vance and Carol from Silent Observer. Jason and staff from Primo's BBQ and Heather and Laura from Crafters for a Cause. Thank you to CJ Rodebaugh and Reed King for helping with the stage set up. Thank you Rich Spicer for helping co-emcee alongside of me. A very special thank you to Jackie Soltman for her time and dedication to this event! The After 26 Depot Cafe is successful because of the support of a caring community. The money raised will be dedicated towards helping continue our mission of employing adults with developmental disabilities and cognitive impairments. We hope to continue growing this event in the future years and look forward to your continued support! Look for announcements on next year's BIG celebration of our 10 year anniversary that we will be celebrating at our 9th Annual Depot Music Festival. Stay tuned for details.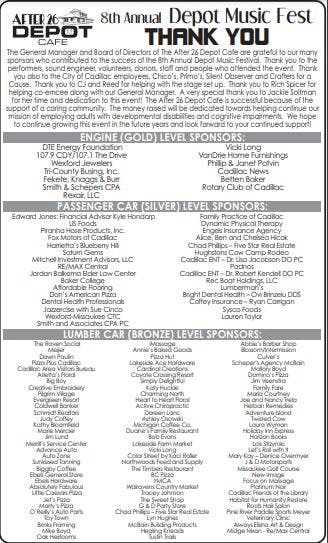 PLEASE NOTE:
Due to various reasons, our hours may change on occasion. Staffing issues have unfortunately led to some recent closures. Please always call ahead and/or check our Facebook page for updates.
The DTE Energy Foundation has been an incredible supporter of the After 26 Project for the past six years. They support not only us, but many important nonprofits throughout the State of Michigan.

We're thrilled to announce that the After 26 Depot Cafe has been selected for the Certificate of Excellence, reflecting the consistently great reviews on TripAdvisor.